On Engaging Brand Experiences, the Light Phone, and Parasite.
Hey, everybody. This is a fun one in terms of contributors, because I've known John for many years as colleagues, co-mentors in spaces, and friends when he was running a lot of the consumer goods sales and strategy at Indiegogo. He's an incredible person and was brought in to manage partnerships at b8ta…right after they announced their monster fundraising round of $50MM along with launching 25 (!!) locations worldwide. This is a good one.
Enjoy!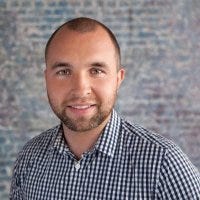 John Vaskis is the Vice President of Partnerships at b8ta. b8ta is an experiential retail chain with over 20 locations that center around innovative products. b8ta's locations urge customers to discover, experience and buy products while providing our partners with data about those interactions. Prior to b8ta, John spent almost 7 years at Indiegogo managing sales and strategy across the Consumer Goods vertical.
A fun fact: 2 quick hits here:
I have used the Heimlich maneuver successfully 3 times to help others (none unsuccessful) in my life so far.

I have seen the band Pearl Jam over 30 times in my life...I am not super religious but seeing PJ is about as close as I get to going to church regularly.
---
What are you currently working on?
Oh, this is a loaded question as my wife and I welcomed our second daughter into the world 2 months ago so the easy answer is that I am mostly working on little sleep…..I kid, I kid (Get it?? Two of em??).
Ok, enough dad jokes…
(Editor's Note: I approve.)
On the personal side, I am working on being more present at home. After my first child, I realized that on weekends I am a great partner alert, on top of all things but during the week I found myself drifting towards my phone and work when it wasn't totally warranted. So, I am working on setting boundaries and getting better with work/life balance.
On the professional side, since I have joined b8ta I have been building the infrastructure to bring innovative products to our now more than 20 stores (2x the amount of stores the year prior). Innovation is an interesting term as it happens at companies of all shapes, so engaging with first-time entrepreneurs and innovators in large corporations is very rewarding...but navigating those different companies is executed in a very different. Personally I have never created a product (outside of the two little ladies) so being able to be a part of these innovators' product journeys is rewarding in its own way.
What are you currently excited about?
This is going to sound like a company shill but since joining b8ta and getting thrust into the world of retail I have become very excited about where this sector is going. I have never been a huge shopper, my mom and wife have bought my clothes (seriously thanks for that), but this has changed the way that I look at the sector. A lot of has been said about the death of retail and I think a lot of the bigger less mobile companies might continue down that path but this has opened up a different way to engage with a customer.
I spend a lot of time at our location at Hudson Yards and walking around the 2nd floor that centers on a lot of innovation in the retail space it can only leave on excited on how this nets out for the customer and the brands long term. I think these will become much more engaging brand experiences in the not so distant future.
What's a story or article that you're currently thinking about?
Honestly all things Scott Galloway. Before he made his call that WeWork was overvalued (which got him a lot of well-earned praise) I was turned on to the NYU professor's workings after a breakfast meeting with Todd Benson (a venture capitalist) where he suggested for me to dive into Scott's work. So I picked up Scott's book The Algebra of Happiness which I HIGHLY recommend and it truly changed my perspective on life.
The book is a thoughtful look at life lessons and theories on the happiness of self all of which have changed the way that I think about going about my day. I now listen to his podcast Pivot religiously and even signed up for his class (something I couldn't imagine doing for anyone else).
What's a product you're currently obsessed with?
I know this is supposed to be one product but I am going with two that are similar but the complete opposite. During the workday, my Apple Watch is the most vital product as it allows me to keep in touch with my wife and my kids preschool in a relatively discreet way. It also helped me lost 20 pounds so it keeps me well connected.
On the other end of the technology spectrum when I get home I move over to using the Light Phone which is a feature-less phone. This allows me to disconnect from constantly checking my phone and to truly engage with my family. If anything major comes up there will be a text or a call otherwise I am free from distraction.
It is liberating to be able to go a bit back in time when phones were simply...phones.
Wild Card: What's an item you can't shake your mind off of?
With the kids….watching movies, especially movies that aren't starring Anna and Elsa, is hard to do. We finally got to watch a newish non-cartoon movie last week which was Parasite. I know its not a crazy recommendation after they just won a whole bunch of awards but the way that movie speaks about class in society has had me up late at night searching the internet for all of the meanings/symbolism in the film.
I don't want to spoil it for anyone but seriously see it if you haven't yet and if you have feel free reaching out I love discussing it.
---
~ C O L O P H O N ~
Please send all feedback, both positive and negative, to sumeetshahwork@gmail.com as this project continues to evolve.

Interested in contributing an edition? Email me at sumeetshahwork@gmail.com!

Want more great things to read? Follow my Quartz app profile.

Did this get forwarded to you by a friend? Please consider subscribing below!