Thirteen. / Contributor Nine: Mallory Blair, Small Girls PR
On the Next Mini Side-Economies, If Index Funds are Anti-Competition, and the Weird Allure of Machismo Advertising.
Hey, everybody. This is a very fun edition right before the holidays: none other than the self-proclaimed "Polly Pocket of Business," Mallory Blair of Small Girls PR! I've been a longtime fan of Mal, her co-founder Bianca Caampued, and SGPR's work and have known the dynamic duo in both our early years of starting within the startup world. Furthermore, SGPR did some work for some of the startups I backed during my early VC days. Mal's no stranger to thinking outside the box, and that's what she and her firm stand for. It's why they've scaled to the mini-powerhouse they are now and why this edition is going to be a fun ride.
Enjoy!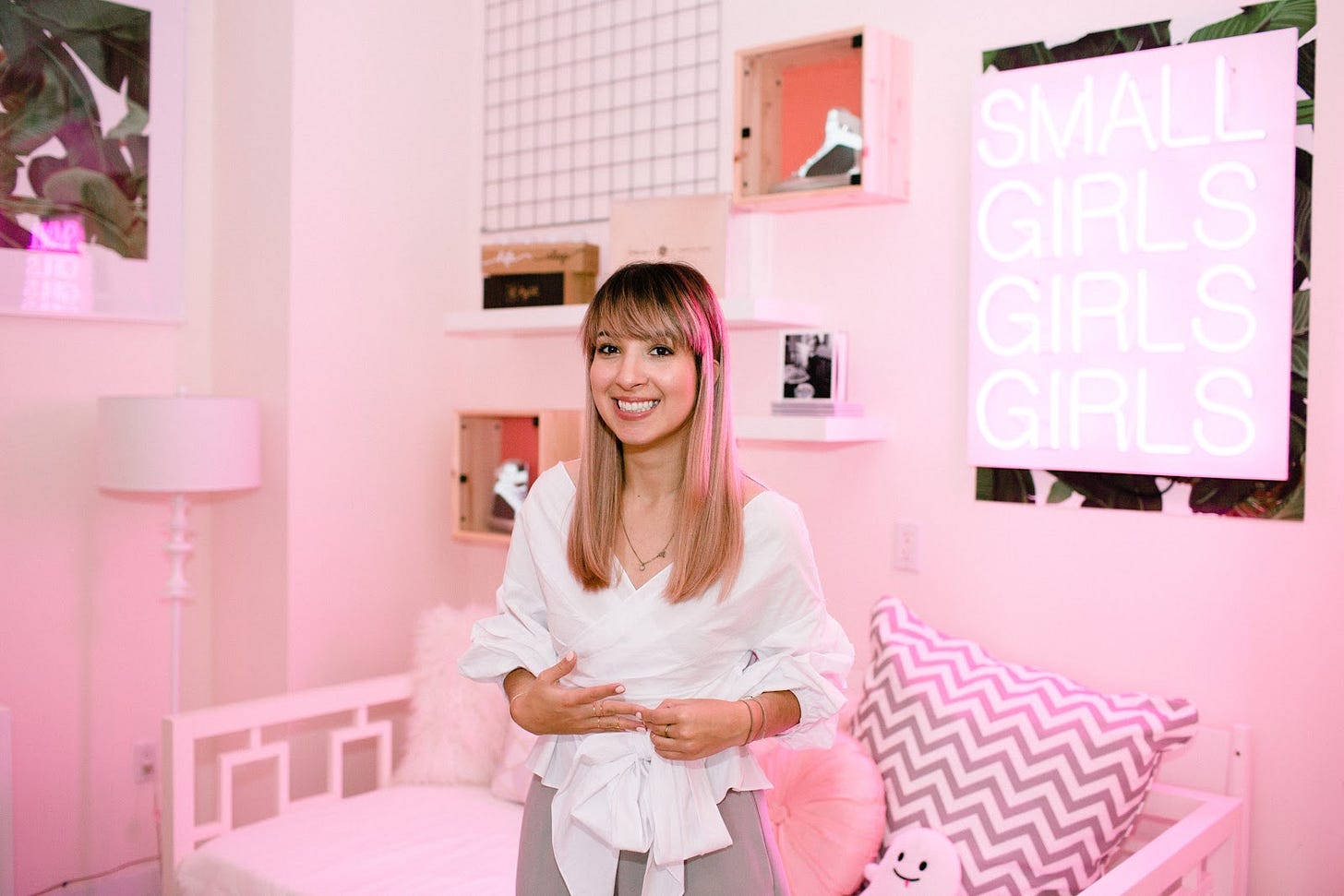 Mallory Blair is the CEO & Cofounder of Small Girls PR, a company she bootstrapped out of college that has since grown to a bi-coastal firm powered by 60+ taller people. Clients range from popular startups (Billie, Moda Operandi, DoorDash) to household names (Olay, GE, Malala) who turn to the company for brand communications, media relations, experiential production, and influencer marketing. 
Mallory and her team have personally come up with campaigns that have become answers in The New York Times' crossword puzzle and trending topics on Twitter. 
Professionally, Mallory's also been named to Forbes 30 under 30, Business Insider's Top 50 PRs, Marie Claire's Young Guns, PR Week's Innovation 50, BuzzFeed's Top Role Models for 20-Somethings, and her mother's fridge. Small Girls is growing and always up for a chat at hiring@smallgirlspr.com!
A fun fact: I've won two Guinness World Records, several hula hooping contests, and was the reigning champion of my summer camp's "Crazy Hat" design contest for six consecutive years, though these three things are all unrelated. All of my skill sets have very low utility in the "real world" with the exception of PR / coming up with funny stunts which has worked out okay. (Editor's Note: Wait…what??)
---
What are you currently working on?
Professional is 2020 planning: I just presented a two-hour state of the union to the entire company last week, sharing metrics about where we stand as a company in comparison to the marketplace (as well as where we were this time last year) and how we're building upon that crazy momentum into 2020. Tomorrow, I'll head into my off-site with our Managing Director to work through how our billable teams will integrate and evolve for next year.
Personal is furnishing my apartment: I recently moved to Dumbo and have been using the 3D interior design platform Modsy to bring it all together.
What are you currently excited about?
For a while it was hot to have an app, then the market was saturated and attentions turned towards the DTC world. Now the market is saturated there, too. I'm excitedly looking forward to where founders will turn next and the mini side-economies that follow. :-)
What's a story or article that you're currently thinking about?
Whether or not collective ownership via index funds has made it so there's less competition these days between companies. Matt Levine at Bloomberg wrote about this recently here but I first read about it in Slate a few years back.
Basically, if the model has shifted to everyone putting their money into index funds and there are fewer and fewer individual shareholders (aka less people buying individual stocks directly), the result is that financial institutions like Blackrock and Vanguard would become the largest owners of almost every single company. So if things keep going in this direction, it's possible that all of the largest publicly traded companies will be owned by the same three investment managers and we will have a whole new category of monopolies!!
For example, let's say Vanguard becomes the largest shareholder in American, United and Delta–then there's not really an incentive for airlines to compete because Vanguard would want to keep pricing high across every company. Then what? Despite thinking about that, I am still personally investing in index funds.
#YOLO
What's a product you're currently obsessed with?
My Hidrate water bottle. I've never been a big water drinker and for the past nine years have struggled to remember to eat lunch or drink water during the week because my schedule is booked within 15 minute increments until the evening almost every day. Hidrate is connected via Bluetooth so when I haven't drank from it in a while, I'll get a text with some cute emoji shooting me a reminder to hydrate. And if that doesn't work, the entire bottle starts glowing and pulsating to grab my attention in the room.  (Editor's Note: Hidrate is also run by an awesome female founder, Nadya Nguyen, so if you're looking for a last-minute gift and want to support an awesome human, here's your chance!) 
Wild Card: What's an item you can't shake your mind off of?
I'm pretty fascinated by the Instagram account of Bang energy drinks (@bangenergy). It's a brand that still operates under a machismo "sex sells" belief but does so alongside creative uses of social and emergent tech. It grosses me out and strangely impresses me at the same time.
Despite the strength of the women's movement and the general motion of culture, this bikini-clad brand is somehow the fastest growing one in their category (they're the fastest growing non-alcoholic drink on the market!) It's interesting to consider what that says about the state of the U.S. Most of my friends & colleagues in NY & LA have never even heard of Bang.
It's a reminder that, beyond thinking globally on behalf of brands, even thinking nationally is not as straightforward as one might think.
---
~ C O L O P H O N ~
Please send all feedback, both positive and negative, to sumeetshahwork@gmail.com as this project continues to evolve.

Interested in contributing an edition? Email me at sumeetshahwork@gmail.com!

Want more great things to read? Follow my Quartz app profile.

Did this get forwarded to you by a friend? Please consider subscribing below!