Thirty Five. / Contributor Thirty: Elizabeth Semmelhack, Bata Shoe Museum
On the Gender-Neutral Evolution of Heels, Museums Helping Voices Get Heard, and Coming Together to Demand Change.
Hey, everybody. As we enter the deeper levels of summer, keep safe out there and please share any road-trip style ideas you're contemplating or doing! Also, so proud of NYC which announced the first day since March 11 with 0 deaths from COVID-19. We can all do this.
Also, a quick announcement for this incredible community: we now have an internal Slack group called Le Slack! (Hat tip to Devin for the name.)
Yes, most of you are probably on 89,074,239,087 groups already, but if you're looking for a Cinq-style community that's a welcoming and respectful refuge from the crazy (and often disturbing) outside world, come join us here.
---
Today's author is a very, very special one to me. I first learned about her through my deep love for sneaker culture, the Unbanned documentary, and various conversations about Jordan Brand, the GOAT himself, and how women are really changing the sneaker game.
After getting her book COLLAB: Sneakers x Culture as an anniversary gift (thank you, Tash!!), I ended up finding (and buying) a pair of Puma x Shantell Martin kicks and reached out to today's contributor (via Twitter DM) thanking her and asking if she was up for writing an edition of Le Cinq. She's written for (and been interviewed by) countless major publications, so it was an ambitious ask.
She didn't just agree to write one; she also offered to give me and Nitasha a private tour of the Bata Shoe Museum. While I'm still in shock and cannot wait to take her up on her offer, I hope you all enjoy this great edition by her!
Ladies and gentlemen, Ms. Elizabeth Semmelhack.
Enjoy!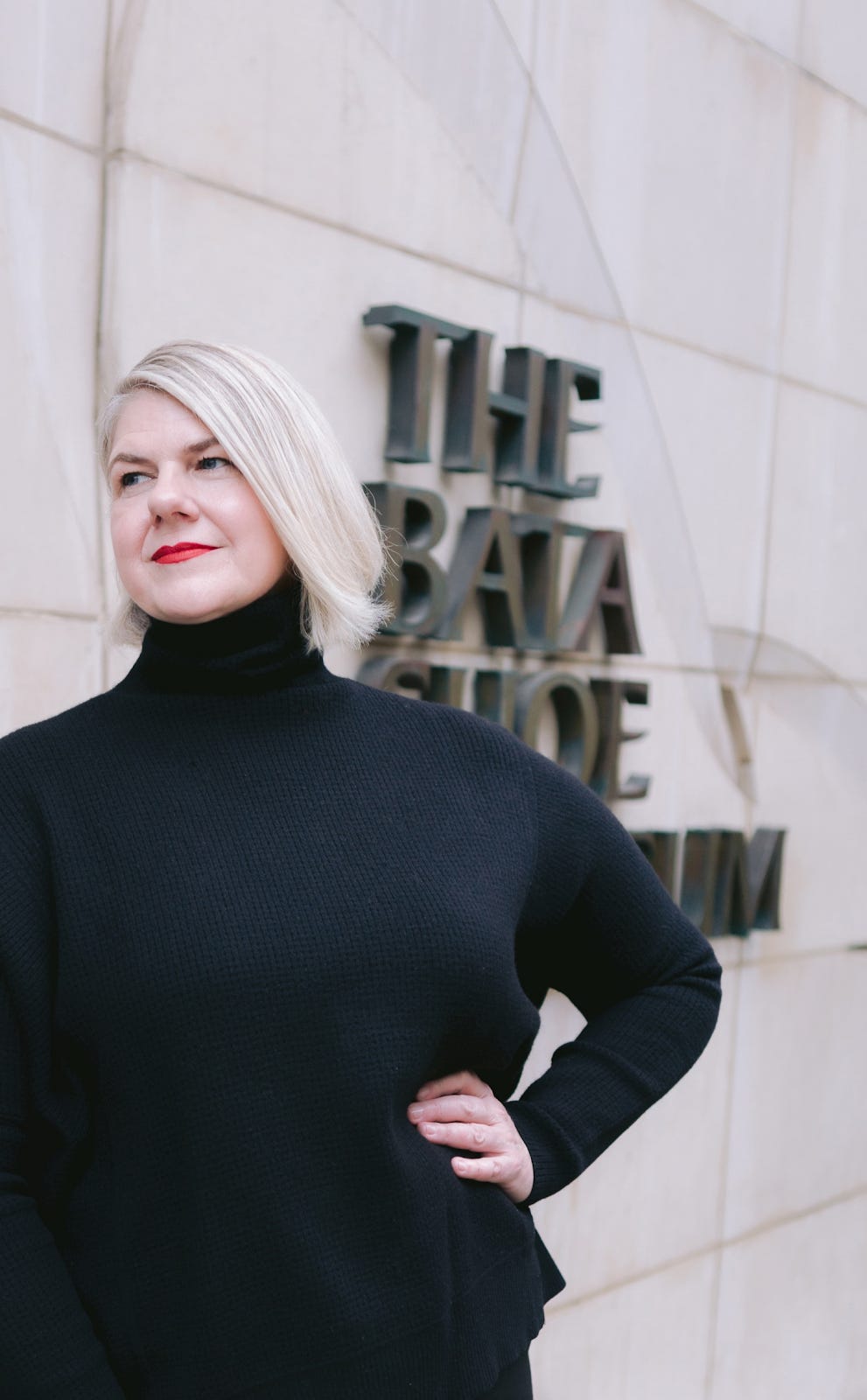 Elizabeth Semmelhack is the Creative Director and Senior Curator of the Bata Shoe Museum, which she joined in 2000.
Named by Fashion Magazine as one of the world's top five game-changing fashion curators, Semmelhack has been featured in articles and interviews in National Geographic, Vogue, Elle, InStyle, W Magazine, Women's Wear Daily, Fashion, Flare Magazine, Forbes Magazine, The New Yorker Magazine, GQ Magazine, South China Morning Post, Los Angeles Times, Washington Post, The National Post, The Toronto Star, The Globe & Mail and many others, including a May 2015 op-ed piece for The New York Times discussing issues related to gender and high heels.
She has also appeared on numerous programs including NBC's "Today Show" and "Conan O'Brien Show"; CBC's "Life and Times"; City TV's "Breakfast Television", "City Pulse" and "Cityline"; HGTV's "Designer Guys"; Canadian Living TV; Discovery Channel; Global TV; and MTV Canada.
She also is is the author of multiple well-known books on sneaker culture.
Finally, in her words:
I wasn't sure how long I would want to work specifically on footwear but now twenty years on, I have more questions than ever. Prior to coming to the museum, I was working on the intersections of gender, economics, fashion and print culture in late Edo period Japan so footwear seemed to be a bit of leap but what I quickly learned is that my core questions could be answered by footwear as well. 

I am interested in things that are mass-consumed. The ideas and objects that capture the attention of many prove to be very good entry points into larger cultural questions.
A fun fact: One of the first questions I asked when I arrived at the museum was why does men's erotica so often feature women ornamented solely (sorry) with a pair of high heels? The obvious answer is shoes are items of fashion that don't obscure important information while simultaneously letting the viewer know that they are looking at a contemporary woman rather than an allegorical Venus. Yet, given that any type of footwear could do this, why the high heel?
This question led to many more about the hyper-sexualization of the high heel across the centuries and also led me to search for the origin of the heel.
So far, my research has led me all the way back to 10th-Century Persia where heels were worn by men and were used as equestrian tools worn in conjunction with the stirrup. Not only did this explain why cowboys still wear heels, it also allowed me to research all of the times in history when heels were worn by men to proclaim their masculinity.
---
What are you currently working on?
I am currently working on reopening the Bata Shoe Museum. (Editor's Note: If you live in Toronto, It reopens today!)
Museums are about objects and the stories they have to tell. Certainly, we have been providing engaging online content but there is nothing like seeing an artifact in real life, and historic footwear does a very good job at connecting us to the past in very visceral ways. 
What are you currently excited about?
I am most excited for a vaccine for COVID-19, but in terms of work, I am always excited about upcoming projects.
The next exhibition that we will open is called The Great Divide: Footwear in the Age of Enlightenment which looks at the ways in which European footwear and fashion supported Enlightenment ideas of difference including gender and race. It opens on August 12, 2020.
I am also very excited for the exhibition following The Great Divide.  It is titled Exhibit A: Investigating Crime and Footwear and I am co-curating it with my good friend and academic colleague Dr. Alison Matthews David. It will look at a range of issues from footwear forensics to racial profiling and will include loans from a range of museums including Scotland Yard's famed Crime Museum.
Other upcoming exhibitions include one on the future of footwear from the sustainable to the virtual and a large traveling exhibition on footwear and dance around the world.
What's a story or article that you're currently thinking about?
I am reading and thinking a lot about the Museum Detox blogs.
This is a time of incredible opportunity for museums and other cultural institutions to open up and become places where more voices can be heard and stories can be told but it requires dedicated and difficult work. 
"Systemic oppression erodes the fabric of society when perpetuated, ignored by those not directly impacted by it." - Museum Detox Blog, June 1, 2020
What's a product you're currently obsessed with?
Plants. 
I have been obsessing about how to get plants and where to put them throughout my space. I have done well with a few hardy plants that have decided to stick around for the past 10 years or so but I am definitely feeling the need for more.
Wild Card: What's an item you can't shake your mind off of?
Collaboration.
When I was working on my recent book Collab: Sneakers x Culture, I wanted to know why we were suddenly interested in consuming collaborations; it seemed to represent a marked shift from a longstanding focus on individual designers and athletes. I was particularly interested in this because fashion is often prescient, showing us what we want before we fully understand it ourselves.
I am thinking about this now because of all of the current ways in which people are coming together to demand change.  
---
~ C O L O P H O N ~
Please send all feedback, both positive and negative, to sumeetshahwork@gmail.com as this project continues to evolve.

Interested in contributing an edition? Email me at sumeetshahwork@gmail.com!

Want more great things to read? Follow my Flipboard Magazine, #Reads_Feeds.

Did this get forwarded to you by a friend? Please consider subscribing below!