Twenty Five. / Contributor Nineteen: Meera Clark, Obvious Ventures
On Pushing Optimism, the Evolution of Identity, and Dream Powders.
Hey, everybody. Happy Silver Anniversary to this little pet project I started last year! It's amazing how many profiles and stories we've been able to tell here. I feel pretty excited that my latest contributor is the one to shuttle in this new era of Le Cinq, as she's definitely one of the sharpest and smartest young guns in the VC world. I met her through Adrian of The Proof (and our first contributor), and I'm so glad I did. Ladies and gentlemen, Ms. Meera Clark!
Enjoy!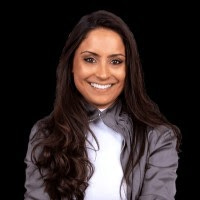 Meera Clark is a consumer investor at Obvious Ventures, an early stage venture capital fund founded Twitter and Medium founder, Ev Williams. Obvious' investment approach is grounded in the belief that world positive businesses have advantages in the market and can outperform their more traditional peers across trillion dollar industries. These types of businesses have a sustainable positive impact and are transforming the products we're consuming and the ways in which we live our lives. Prior to joining Obvious, Meera invested in and advised high-growth technology companies at Morgan Stanley. Across the firm's New York and Bay Area offices, she spent time in Technology Investment Banking supporting consumer internet and software executives through both late stage private placements and Initial Public Offerings. Meera also scaled the firm's early stage technology accelerator, the Multicultural Innovation Lab, focused on female and multicultural entrepreneurs.
A fun fact: Despite being fairly social (I'm an Enneagram 2), my mom is my best friend! When I first moved to California to attend Stanford as an undergrad, she moved 2,700 miles to follow me to college (much cooler now than it was when I was 18…). Fast forward to my more recent move back to the Bay to join Obvious, I'm now the one following her...and living under her roof (such a millennial move, I know)!
You can find her in my Instagram stories or next to me during Zoom CorePower classes while we shelter in place.
---
What are you currently working on?
I am currently working on remaining optimistic. 2020 has been a challenging year for us all - and we're less than 30% of the way through it. In a society where so many strive for perfection, there is a frequent desire to abandon or give up on works in progress when they aren't going our way. 
As I think about this year, this societal shift, and this market opportunity, we have in many ways been leveled - which actually creates opportunities to rebuild the reality that we wish existed. This, to me, is incredibly exciting. It is my hope that this collective wake up call will inspire us all to leave the world (both physical ecosystems and digital domains) better than we found it.
Humankind's ability to ideate and generate never ceases to amaze, and we've never had greater access to the most powerful building blocks than we have today. Am I ever momentarily consumed by fear of the unknown? Absolutely. But while I recognize that this presents perhaps the greatest challenge faced in recent history, I am also incredibly hopeful and excited for the innovation and interpersonal development that will inevitably come out of it.
What are you currently excited about?
I am currently excited about the evolution of identity. I believe that how we define ourselves and where we spread this message will look very different 5 years from now. Three key threads are currently top of mind...
First, I think we will continue to see a blending of personal and professional identities. Once you've seen someone's French Bulldog in a Zoom meeting, can you ever really go back? On a more serious note, as the nature and structure of work continues to evolve I do think we'll see greater adoption of best practices across spheres and the unification of personal brands, be this on an Instagram business account, within a vocation specific community like Bravado, or on a new platform entirely. Could this transition lead to a convergence in category leaders across consumer and enterprise? 
Second, I think we will see a shift in priority from quantity to quality. People will place greater value on high quality relationships, high quality engagement, and high quality experiences. It's taken a few decades for us to appreciate the shortcomings of a super sized mentality but I believe this reality is finally sinking in. With this in mind, how will we ascribe value moving forward? And who (humans or machines) will be the ones making such value judgements?
Finally, I think we will see new platforms emerge as means of connection and discourse moving forward. From the desktop to the iPhone. From Myspace to Instagram. Over the past few decades, technology and platform transitions have become an accepted reality of the consumer landscape. So where do we head from here? And what technologies will be fundamental to the ways that we express ourselves and engage with others moving forward?
We are in the early innings of the 2020s and I believe that this social shift is as well. So beyond these three, what am I most excited about? Greatly expanding upon these buds from hearing the perspectives of others like you!
What's a story or article that you're currently thinking about?
This Washington Post article on why we need to be kind in these new times.
Psychologists and citizen scientists alike are increasingly concerned about the longer term impacts of our new, socially distant reality. Research has indicated that loneliness and social isolation are frequently associated with chronic conditions, depression, and weakened immune systems, among other health issues. As we slowly dig ourselves out of shelter in place mandates and reflect upon the role that remote work should play in the lives of millions of Americans moving forward, I believe we should strongly consider the question of "what could possibly go wrong?" 
As a consumer-focused investor (i.e. people are my passion), I fear the implications of such a dramatic market shift. With loneliness on the rise, people are yearning for genuine human engagement. Many  -  myself included  -  believe that social media and consumer social apps are, in part, to blame for this widespread feeling of isolation. Outside of work, they've led people to disappear into their apartments, hide behind their screens, retreat from perspectives differing from their own, and position themselves as carefully curated profiles  -  seemingly fine based on their digital persona but lacking in authenticity, spontaneity, and struggle. 
Over the past 15 years, we've seen stark ramifications across the social sphere that could now infect one of the last bastions of 20th century culture  - the workplace. At this inflection point in the Future of Work evolution, how can we collectively ensure that a reclusive transition and dulled sparks of innovation do not define the plight of workers over the decade ahead?
What's a product you're currently obsessed with?
Beam's Dream Powder. As someone that's obsessed with slumber (I gifted my family Oura rings for Christmas), I've been struggling as of late to get high quality REM and deep sleep (#pandemicproblems). It personally pains me to be operating below my potential. Enter Dream. Beam's rockstar founders Kevin and Matt developed this performance CBD product for nerds like me that value the role that sleep plays in keeping our immune and central nervous systems at their prime. Dream's CBD compound is fortified with compounds like magnesium and melatonin and leaves me sleeping like a baby (yes, I'm capable of 3 hours of deep sleep).
Full disclosure, Obvious is an investor in the company...but Danica Patrick, Malika Haqq, and Brooke Wells can back me up on this one!
Wild Card: What's an item you can't shake your mind off of?
Trillion Dollar Coach: The Leadership Playbook of Silicon Valley's Bill Campbell by Eric Schmidt, Jonathan Rosenberg and Alan Eagle.
This biography meets self improvement guide (because who doesn't love #kaizen) tells the story and secrets to success of Bill Campbell, the legendary coach to many Silicon Valley greats (Steve Jobs, Larry Page, and Mary Meeker, to name a few). The work inspires vulnerability, risk taking, and leading with love - all valuable principals to keep in mind in this ongoing period of uncertainty. 
As we come out of this COVID correction together, let us embrace the words of the Goo Goo Dolls in remembering:
The end of fear is where we begin the moment we decided to let love in.
---
~ C O L O P H O N ~
Please send all feedback, both positive and negative, to sumeetshahwork@gmail.com as this project continues to evolve.

Interested in contributing an edition? Email me at sumeetshahwork@gmail.com!

Want more great things to read? Follow my Flipboard Magazine, #Reads_Feeds.

Did this get forwarded to you by a friend? Please consider subscribing below!