Twenty One. / Contributor Fifteen: Nitasha Mehta, Boxed
On Obliterating the Tampon and Pink Taxes, Overcoming Unspeakable Adversity, and Jackbox Games.
Hey, everybody. What a time to be alive. I hope you all are staying safe and healthy out there, and my hearts are going to the first responders, hospital workers, and hourly employees at small businesses whose lives are deeply affected by this scourge that is COVID-19. If you have the resources (capital or volunteering), please consider helping via:
Donating money or food to your local food bank or organizations like Meals on Wheels or Feeding America,

Donating money or blood to the American Red Cross,

Donating essentials to homeless shelters,

Donating money to restaurant, bar, and food service worker relief funds like those listed here via Eater, and/or

Participate in a new gift-card-focused movement to help restaurants and merchants here.
We can and will overcome this. Keep in touch with those you love, stay active, and focus on the happy things in life.
On that note… I'd love to introduce our latest contributor, who is an incredible human being on all levels, not just because she happens to be my girlfriend. Nitasha Mehta runs the CPG and vendor partnerships at Boxed (which is such an important resource to families at this time), but also fights the good fight on Tampon Tax and Pink Tax reform by testifying all over the country in various state legislatures. Her work has gotten two states (Nevada and Ohio) to repeal the Tampon Tax!
Now, in light of Women's History Month and International Women's Day not too long ago, I humbly and excitedly pass the pen over to Nitasha.
Enjoy!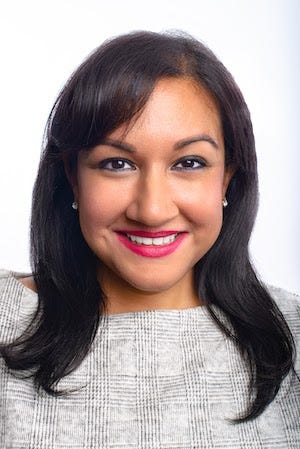 Nitasha Mehta is an experienced digital marketer with over 10 years of expertise in e-commerce, product marketing, customer relationship management, and CPG brand partnerships. She currently heads Vendor Marketing at Boxed, the online version of the wholesale shopping club, working directly with over 80 major consumer brands. Prior to Boxed, Nitasha held marketing roles at Amazon and Samsung. 
Nitasha is extremely passionate about technology and equal opportunity, and she launched the Rethink Pink Initiative at Boxed in 2016, which led Boxed to become the first US retailer to take a stand against gender pricing inequities.
A fun fact: I'm trying to turn my cat into a Catfluencer (because who isn't?). We're spending a lot of time together at home these days, so there's always some new content. Check our Mr. Boombox's Instagram page here!
---
What are you currently working on?
Getting rid of Tampon Tax and Pink Tax! I launched the Rethink Pink Initiative at Boxed in 2016, and as result Boxed reduced prices on products that cost more for women vs. the men's equivalent on a per unit or per oz basis (such as razors, shave gels, body washes, etc), as well as discounted menstrual products in an effort offset sales tax that is imposed on them in 30 states today, even if this meant taking a hit on margin.
Since we launched our initiative I've been testifying in states that have introduced bills to repeal the Tampon Tax, as well as have been working to support legislation that would prohibit gender based pricing discrimination on consumer goods.
What are you currently excited about?
E-commerce is going through a massive awakening right now amid COVID-19, and I'm excited to see how the industry continues to innovate. There's a huge opportunity to reliably provide essentials to consumers when they need them in a trusted environment (ie reliable pricing and inventory).
I see this shift also affecting industries such as wellness and hygiene, remote work from home services, and new and creative ways to increase social stimulation virtually.
What's a story or article that you're currently thinking about?
I'm currently reading Congresswoman Jackie Speier's book Undaunted, and I am OBSESSED. Here is a woman that has truly faced and has overcome unspeakable tragedies in life (I mean being shot and left to die during the Jonestown massacre wasn't her worst tragedy), but continues to fight for women's rights and equality everyday.
It really puts life into perspective, and gives you a sense of what you can achieve no matter what life throws at you.
What's a product you're currently obsessed with?
My Krups coffee grinder. I've been sitting on this Guatemalan whole bean coffee that was gifted by my brother for a couple months now, and now I'm finally able to make an incredible cup of coffee (which is WAY better than my Keurig). I'm almost always in a massive rush during the week--I like to sleep until the last possible moment and then rush out of the door in a panic (hey, everyone has their morning routine).
There's something soothing about being able to skip a beat and slow down on the weekends as I grind coffee, boil water, and wait for my coffee to brew in my french press.  
Wild Card: What's an item you can't shake your mind off of?
Given that most of us will be partaking in a period of isolation for the foreseeable future, one thing that has been keeping me and my boyfriend (hi Sumeet!) sane has been playing virtual trivia with friends through Jackbox Games. We're connecting with different friends across the country, with drinks in hand, and laughing our faces off almost every night. 
In some weird way, I feel even more connected to some of my friends now.  
---
~ C O L O P H O N ~
Please send all feedback, both positive and negative, to sumeetshahwork@gmail.com as this project continues to evolve.

Interested in contributing an edition? Email me at sumeetshahwork@gmail.com!

Want more great things to read? Follow my Flipboard Magazine, #Reads_Feeds.

Did this get forwarded to you by a friend? Please consider subscribing below!